ADOPTED FEBRUARY 2008!
Alice and her kits were rescued from a hoarding situation on December 12, 2007. Alice is a white chinchilla and her kits are silver mosaics. They were signed over along with 112 other animals, 7 of which were chinchillas. Alice and her kits were in a tiny 10 gallon fish tank in the dark basement. They moved on to deluxe living accommodations in foster care with an employee at our vet's offce where they have been receiving lots of attention and socialization. As you can see by the pictures, they are very people friendly! The kits were fairly newborn on December 12 so they should be weaned and ready to go to homes towards the end of February. In the meantime, we will be accepting applications and will arrange for approved applicants to meet the chins closer to the time they are ready for adoption. The adoption fee is $50 for Alice and $75 for each kit to help offset the costs incurred for their care. (Well over $300 has been spent on them so far.) Their foster mom bought a brand new large chinchilla cage when the family outgrew their 50 gallon fish tank, so if an applicant needs a cage, it may be purchased from the foster mom ($150) and the adoption fee would be waived. Both kits are girls and we know Alice is female, so two may be adopted together. In fact, the foster mom is hoping the babies can go to the same home. They love being together and always snuggle. Where one kit is very brave and outgoing, the other is more tentative so she needs her extroverted sister to follow her lead! A client from our vet's office was approved early on for adoption so if the kits can be placed together, he will adopt Alice.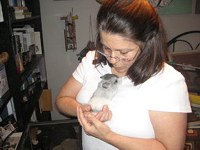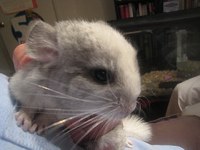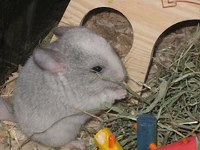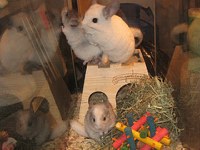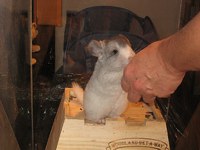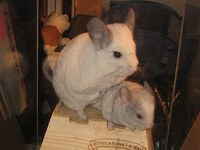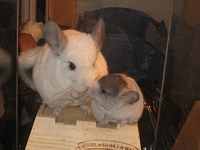 Alice likes to climb on her foster dad's head while running loose in the bathroom so she can shred the toilet paper. Looks like one of the kits thought that was a great idea, too!