MOLLY (now Hazel) WAS ADOPTED MAY 2, 2008!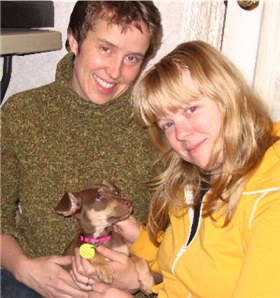 MOLLY'S FIRST DAY:
So far, so good! Molly had no accidents in her first 24 hours with us. Yesterday, we started by taking her out every hour, but now we're down to every 2 hours. Overnight, she went 7 hours without making any noise (after the initial 5 minutes when she sounded like she was in horrible pain!). She clearly understands where she is supposed to go to the bathroom. Thank you for that! It's making our job pretty easy.
She was initially afraid of the cats, but now she wags her tail and tries to play with them. They respond by jumping up onto something that is out of her reach. I think they will be fine together.
We'll send pictures in a few days.
UPDATE: May 8, 2008
Molly (now Hazel) is doing so well! She consistently sleeps 7 hours at night and then goes right back to sleep for at least another hour after going to the bathroom and having breakfast. She spent most of her first two days with us asleep on one of our laps. Now, she alternates napping with very energetic playing and is happy to take some of her naps in her crate. There's no more crying when we put her in her crate, just an occasional whimper, and she wakes us up in the morning with the sweetest little coo-ing sounds.
UPDATE: June 3, 2008
Hazel (Molly) is doing fabulously well and growing fast... she was 9 pounds and then 12.5 pounds at her vet visits on May 16 and May 30. Later this week, she will start puppy obedience classes, although she is already well-behaved! She is easy-going, sweet and very popular in the neighborhood. Most mornings, we take her to Prospect Park, which is off-leash before 9:00 AM. She loves to play with other dogs, especially the big ones. Her best friend is Ringo, an 80 pound, nine month old golden retriever that lives upstairs. They are so funny when they play that a crowd often gathers to watch. We call it the Ringo and Hazel show. Thank you again for taking such good care of Hazel when she was so small. She is very well-adjusted and happy. We love her!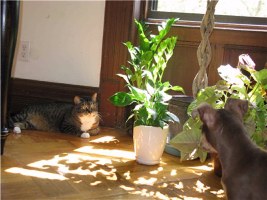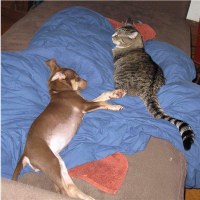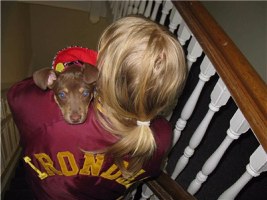 UPDATE: July 8, 2008 (5 months old)
She is still as sweet as can be. My sister and my 1 year old niece were here for a week and Hazel was so gentle with the baby, carefully taking treats from her without using her teeth. She's up to 25 pounds, but her ears are growing at a faster rate than the rest of her body, so she is becoming a very striking and unusual looking dog. Last weekend, we were approached on the sidewalk by a photographer who wanted to add photos of Hazel to her portfolio. She was more than happy to sit for a photo shoot (see attached). This week, she is finishing up puppy school and we'll take her for advanced obedience training in the fall. She is a bit of a show-off in class, the only puppy to do several rounds of sit-down-sit-down or to drop the delicious treat when told to "drop it"!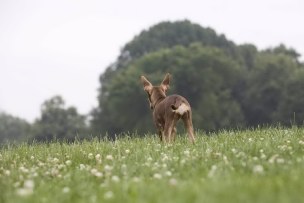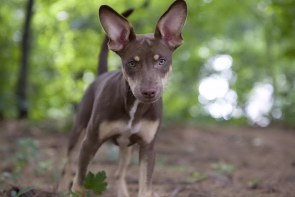 MOLLY'S STORY:
7-8 weeks old: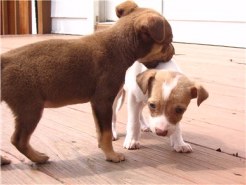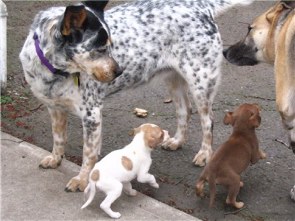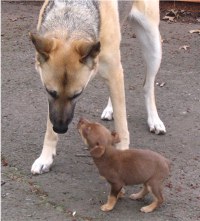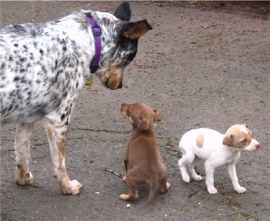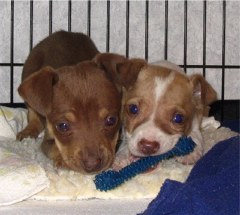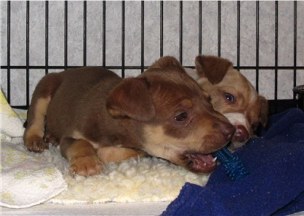 8-9 weeks old: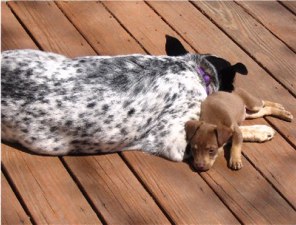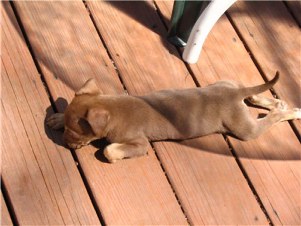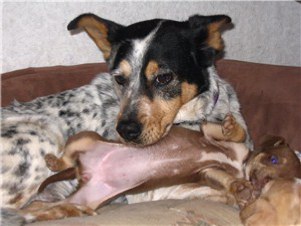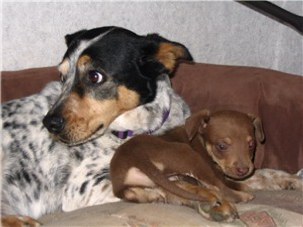 Millie (white with brown spots) and Molly (brown and tan) are the two smallest of a litter of 10 puppies, born in a filthy shed. We are currently accepting applications for their adoption. They will be ready to go to new homes after they are spayed on April 28. They will then be 10 weeks old, the optimal age for parting ways and going off to separate homes of their own. Until then they are together in a foster home being well cared for and properly socialized.
Their mommy is a very, very friendly 35 pound pit bull terrier, the daddy a 45 pound shepherd mix. The puppies should fall within the 35-45 pound weight range when fully grown. All Star Pet Rescue took in the litter under the condition that the mom and dad along with the 4 from a previous litter be spayed and neutered to stop the rampant cycle of reproduction. This was already their third "accidental" litter - the last two litters have an age difference of only 7 months. There had been a total of 16 dogs on this property, all living in squalor outdoors. Sadly, when All Star Pets arrived to get the puppies, there were only 7. The owners assumed the other 3 had gotten out of the yard but they could have cared less and had never bothered to go looking for them. Companion Critters took the two smallest puppies the day they were rescued. They did not look so well and were dehydrated so All Star Pet Rescue asked if we could help out so they could concentrate on the other 5 puppies. Millie and Molly perked right up after ravenously chowing down some good food. They no longer have to compete with the larger puppies in their litter, the adolescents from the previous litter and their parents for food. We make sure that if one eats slower than the other, each gets her fair share. The puppies were filthier than any dog we have ever seen so as soon as they ate and we could see they were OK, they went right into the bathtub for a good scrubbing. And well, puppies being puppies, there will be many more baths to come.
Where both puppies were scared with their tails tucked between their back legs when they first arrived, within less than 24 hours they were holding their tails high and wagging wildly to show their happiness. We encourage interaction with the resident dogs under strict supervision for short periods of time so they get used to being with other dogs and not just each other. Molly and Millie adore the big dogs and follow them everywhere. Both girls are very sweet, like to be held and will fall asleep in their foster mom's lap.
Molly's Weight Chart

4/6/08

3 lbs

4/9/08

3 1/4 lbs

4/13/08

3 1/2 lbs

4/15/08

4 lbs

4/20/08

4 1/2 lbs

4/22/08

5 lbs

5/1/08

6 1/2 lbs