MILLIE (now Miley) WAS ADOPTED MAY 2, 2008!
MILEY'S FIRST DAY:
Hi, just wanted to let you know that Miley is doing good. I put her to bed at midnight, she went out to pee before going to sleep and I got up at about 6:45am and let her out, she peed and pooped. Then I checked her crate and no accidents! Yah! She didn't have any yesterday, she seems to whine a lil and fuss when she has to poop, even outside she'll cry and then go running to find a spot to go. She got an exam yesterday, 2 Dr's there said she's definitely under 3 months old. We did a fecal test and no worms, overall she looks good and the suture will have to stay in until next weekend. It looks like they glued most of the incision so she wants me to keep an eye on it cause she said it looks a little open. They all love her at work. I had everyone visiting her yesterday! My mother and brother came to see her and my husband came in and they think she's so cute.. She's doing good in her crate and Jenny runs around like a maniac in the yard after her, she wants her to chase her, but Miley is still afraid she's gonna get run down! haha She fell asleep on the blanket on me on the couch last nite, we were watching the movie "Ghost", I guess she wasn't that into it so she passed out.. She also looks adorable in her "green is the new pink" shirt! Everyone thinks she looks like a jack russell mix cause she's so small, but she looks like her parents. So, she's doing great and the kids are soooo excited about seeing her!
UPDATE: May 19, 2008
She had her third distemper shot yesterday and weighed in at 9lbs., 10 ounces. She's been doing really well, sleeps in her crate all through the nite and runs into her carrier in the am when we go to work. She loves her carrier and loves to go for rides in the car. She doesn't get car sick which is a big plus since she comes with me to work everyday. She does good at work also, the girls let her out a lot during the day and she's been getting socialized well with other dogs. She loves the cats, but is sometimes a little rough with them and goes pouncing on them cause she wants to play and she gets so happy wagging her tail when she sees them, but Guido and Penelope try to avoid her in the house. They see her coming and are like i'm outta here! They sometimes slowly go to whack her in the head with their paws as a warning, but they've never hurt her or made her cry. Miley likes to try to sneak up on Guido and try to bite his tail, haha, he does not like that! She's in extreme puppy chewing mode and she's got razor sharp shark teeth! She only has run over the first floor until she's completely potty trained. She still has accidents in the house, but she's been doing better. The problem is she doesn't let me know when she needs to go out and i let her out a lot and sometimes she'll go outside and go and then come inside and go... She stayed at my parents 2 weekends ago overnite because went went to the city for our anniversary and she had no accidents and got along well with the dogs. Also, my parents dog scratches the door when she needs to go out and Miley saw her doing it and started to do it, but here at home Jenny doesn't teach her anything because she sleeps all day in the house and doesn't let me know she has to go out. She'll just pace the hallways and then I'll know she has to go, so Miley hasn't picked up anything from Jenny at all. The only thing Jenny has taught her to do is roll on her back in the grass, it's so funny! They play really well outside, but Jenny has ran her over twice since she's so big and once she gets her big body moving she can't stop. She's like a freight train that can't stop when they run around... So the only problem we haven't conquered is the potty training. She's also learning to walk on the harness/leash and she knows sit and paw. I'm going to send you some pictures...keep in touch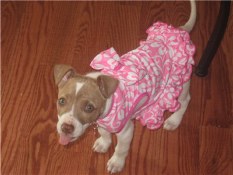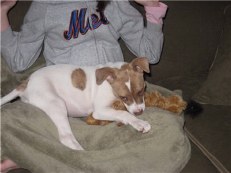 UPDATE: August 30, 2008
Miley has attended beginner training class and graduated! YAH! I attached pics of her graduation, she looks soooo cute. She is 26 lbs. now, I have a feeling she'll get to 30 and stop. She's very smart, knows her commands well, but also stubborn sometimes. Full of energy and will eat anything laying around in the house so I have to watch her like a hawk! She outgrew her crate so she has a gated off area she sleeps in at night which is the mud room and has enough room to walk around and access to walking into the bathroom also. I keep the crate in there still w/the door on it open so if she wants to sleep in it she can stretch out. She also has two other beds in the mud room with all of her toys. She can't have any stuffed toys because she shreds them and will eat pieces of the toy or the squeaker in it. So she has a lot of nylabones and a kong that I put peanut butter in for her and she loves it. I try to find things that are indestructible.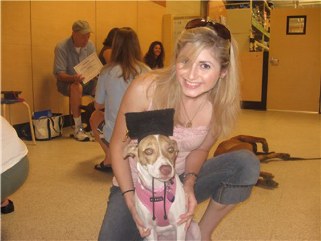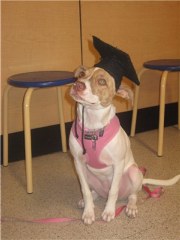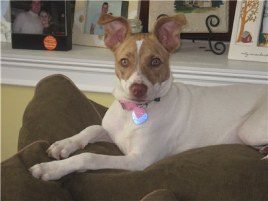 MILLIE'S STORY:
The puppies' mommy: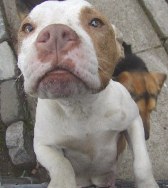 The puppies' daddy: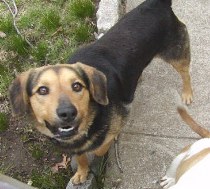 And for a unique look into the future, the puppies will most likely look like their older siblings from a previous litter when fully grown:
Carrie Ann
and
Peggy Sue
are 9 months old: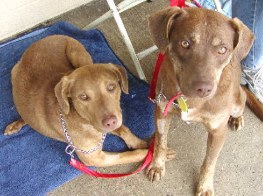 7-8 weeks old: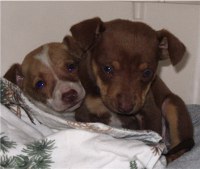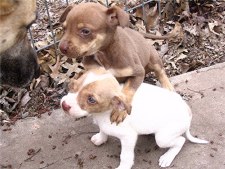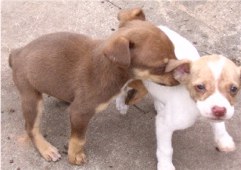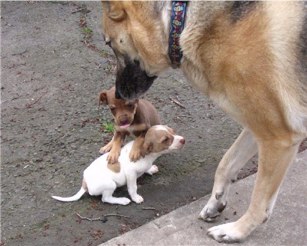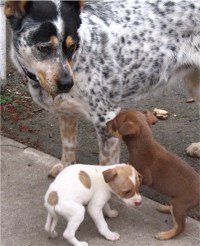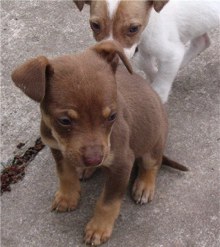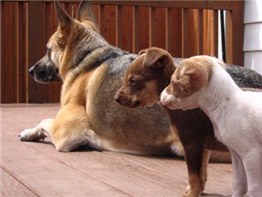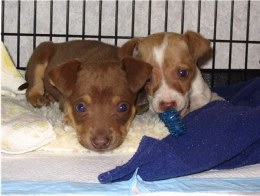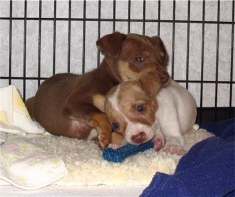 8-9 weeks old: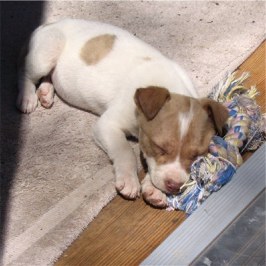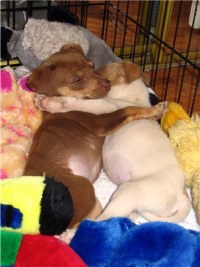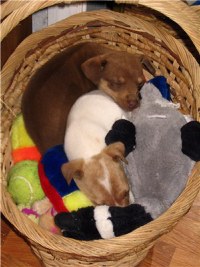 Saturday, April 19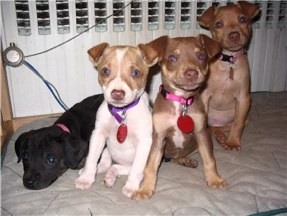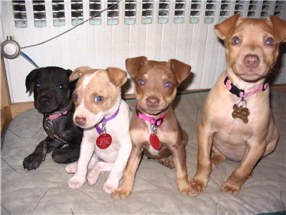 Millie (white with brown spots) and Molly (brown and tan) are the two smallest of a litter of 10 puppies, born in a filthy shed. We are currently accepting applications for their adoption. They will be ready to go to new homes after they are spayed on April 28. They will then be 10 weeks old, the optimal age for parting ways and going off to separate homes of their own. Until then they are together in a foster home being well cared for and properly socialized.
Their mommy is a very, very friendly 35 pound pit bull terrier, the daddy a 45 pound shepherd mix. The puppies should fall within the 35-45 pound weight range when fully grown. All Star Pet Rescue took in the litter under the condition that the mom and dad along with the 4 from a previous litter be spayed and neutered to stop the rampant cycle of reproduction. This was already their third "accidental" litter - the last two litters have an age difference of only 7 months. There had been a total of 16 dogs on this property, all living in squalor outdoors. Sadly, when All Star Pets arrived to get the puppies, there were only 7. The owners assumed the other 3 had gotten out of the yard but they could have cared less and had never bothered to go looking for them. Companion Critters took the two smallest puppies the day they were rescued. They did not look so well and were dehydrated so All Star Pet Rescue asked if we could help out so they could concentrate on the other 5 puppies. Millie and Molly perked right up after ravenously chowing down some good food. They no longer have to compete with the larger puppies in their litter, the adolescents from the previous litter and their parents for food. We make sure that if one eats slower than the other, each gets her fair share. The puppies were filthier than any dog we have ever seen so as soon as they ate and we could see they were OK, they went right into the bathtub for a good scrubbing. And well, puppies being puppies, there will be many more baths to come.
Where both puppies were scared with their tails tucked between their back legs when they first arrived, within less than 24 hours they were holding their tails high and wagging wildly to show their happiness. We encourage interaction with the resident dogs under strict supervision for short periods of time so they get used to being with other dogs and not just each other. Molly and Millie adore the big dogs and follow them everywhere. Both girls are very sweet, like to be held and will fall asleep in their foster mom's lap.
Millie's Weight Chart

4/6/08

2 1/4 lbs

4/9/08

2 1/2 lbs

4/13/08

2 3/4 lbs

4/15/08

3 1/4 lbs

4/20/08

3 3/4 lbs

4/22/08

4 1/2 lbs

5/1/08

6 lbs