PORTIA WAS ADOPTED MAY 18, 2008!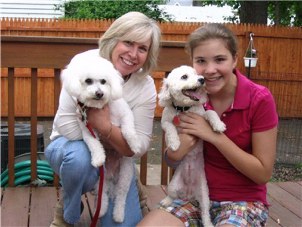 UPDATE: May 30, 2008
She is doing great! She has adjusted very well and it seems like she has been with us forever. She has put on some weight and is now eating dry dog food only. She loves to play in the back yard and only had one (as far as we know) accident. I took her to the vet for a check up and she put her on an antibiotic because she didn't like the way the spay incision was healing but she finished her course and is doing fine.
Portia in her new home: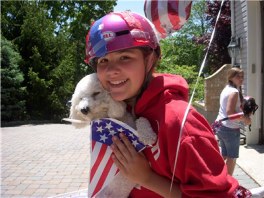 PORTIA'S STORY:
Maybe there is something wrong with us but we simply cannot understand what having a baby has to do with "getting rid of" the dog. That is how Portia came to be unceremoniously deposited at the shelter by her owners. No tears, no regrets, no goodbyes. After all, she had been an impulse purchase at a pet store as a puppy so there was obviously no commitment to this dog. This was also evidenced by the fact that she had no shots, was not spayed, and had never been to a groomer. The home grooming job left her matted and hideous looking. And she was filthy. We were told she was housetrained but the husband decided he did not want her going out into the yard and getting dirty so she was no longer allowed outside and had to potty indoors on newspapers. Oh boy, did that keep her clean. NOT! Poop matted in her behind caused irritation and she had pulled the hair out around the base of her tail. But since she has been professionally groomed (thank you Reigning Cats and Dogs Salon in Westfield, NJ for a fantastic makeover!), she has not bothered with it at all so we are confident it will heal up fine.
Portia is 2 1/2 years old and weighs about 13 pounds. Portia is a sweetheart of a dog. When her foster mom went to the shelter to pick her up, her cage door was opened and Portia immediately flew into her foster mom's arms and licked her face. Portia knew she was busting out of that joint. She was taken straight to the vet for shots, heartworm test and checkup, then to the groomer to get prettied up. She was a doll at both places. Portia gets along with other dogs and likes cats. She is quite the snuggler and is always game for belly rubs. She LOVES curling up in a lap for naps.
Portia will be getting spayed on Tuesday, May 13 and will then be available for adoption. We will be accepting applications in the meantime. We will update on her housebreaking status once we see if she remembers that outdoors really IS the place one is supposed to go but be prepared that she will most likely need some retraining. Also, please be prepared to incur the expense of professional grooming every 6-8 weeks as this is a breed that must be maintained so she does not revert to the horrid condition she was in.
UPDATE: After being in foster care for 24 hours, Portia has crossed two major hurdles due to being mucked up by her previous owners. Honestly, contrary to popular belief, you CAN teach an old dog new tricks! For one, she refused to eat dog food. The shelter said she had not eaten while she was there and that had been for 4 days! We see this often, people who have small dogs don't feel the need to feed dog food and think human food will suffice. Absolutely not! Human food does not have the combination of nutrients dogs need and can cause devastating health problems down the road. We have our bag of tricks lined up for such cases and we are happy to report that Portia IS starting to eat dog food after just 24 hours. Believe us, there is no such thing as a dog that won't eat dog food! We have a 100% success rate in converting the most die-hard human food eaters. It just takes some patience and the ability to "think like a dog". Secondly, we have been having a pee stand-off. Portia's foster mom refuses to put down newspapers in the house. It is simply not socially acceptable and does not make for a good adoption prospect. So Portia has refused to pee. Until after 24 hours, her foster mom noticed Portia was walking around the yard lifting her leg but nothing was coming out. Obviously, Portia was confused and needed affirmation that it was appropriate to pee in the yard. She wanted to, she just wasn't sure... So she was quietly told that she was a good girl and say no more, Portia went in the yard! A party ensued with Portia being hugged and kissed and lifted in the air and she knew she was the best girl on earth (never mind what the neighbors grilling out back were thinking...). That was a major hurdle - it should be uphill from here on out, and indeed it is. The following day Portia relieved herself consistently in the same area of the yard.