JOEY WAS ADOPTED JULY 4, 2008!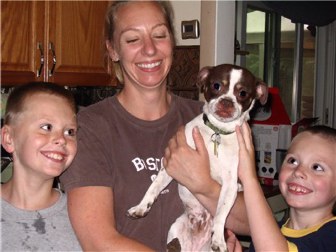 JOEY'S STORY: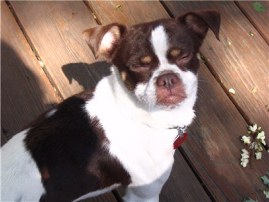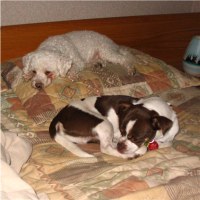 Joey's lineage has been a subject of much debate. People who have Boston terriers say he has Boston terrier in him. Others say pug, chihuahua, Jack Russell terrier, fox terrier.. His family tree branches out widely. So if you are looking for a specific breed, you will be disappointed. But if you are looking for a sweet, fun-loving, happy-go-lucky guy in a small package, then you have come to the right place.
Joey was found as a stray and taken to the shelter where he was never claimed. He is now in one of our foster homes. Joey cooperated beautifully for his bath. He's a very sweet and fun-loving guy who likes other dogs. He is quite interractive with other dogs so if he goes to a home with another dog, that dog would need to welcome Joey's desire to play. Joey is very friendly towards everyone he meets. We estimate him to be 1 - 1 1/2 years old and he weighs around 15 pounds.
After a little over a week in foster care, we will deem Joey housetrained as he has had no accidents. Please understand that this does not necessarily mean he can hold it for hours on end. His foster mom works from home and with being let out frequently, there are no accidents. Joey has also proven to be good with cats. Keep in mind, the cats he has met are very dog friendly and do not run from dogs so we can't tell if he will chase a running cat or not, but if the cats are OK with him, he is totally fine with the cats. He has even been around 5-week-old kittens and has been very kind and gentle towards them.