SARAH WAS ADOPTED JULY 11, 2008!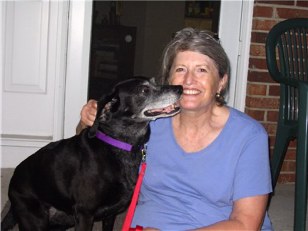 Update - July 20, 2008
EVERYONE loves Sarah Mae -- I've called her everything but that!, and vice versa. (She's met 4 of my sisters and one's family, Dad and his aide, and my son and his girlfriend in addition to neighbors here)
She's terrific: walks very well on the leash, stays off my couches, now goes up to the second floor (I think she must've been raised in a one-story house!), has barked only twice (once with another dog, once just today when I was playing hard with her in the house), eats well, doesn't wake me up in the morning (wish she did!!)...what else? She's lovable and loving. Just perfect for me!! I just wish there were other dogs she could play with - will have to find a dog park.
ABOUT SARAH:
Imagine how it would feel to live in a home all of your life when for whatever reason, your caretaker decides you are no longer wanted, ties you up and abandons you at a shopping center. Maybe some kind soul will come across the dog, take pity on her and bring her home to live happily ever after? Highly unlikely. Animal control is called and the dog is carted off to the shelter where she is totally confused and stressed out suddenly confined to a cage with the pandemonium of other dogs barking. This is exactly what happened to Sarah.
The shelter begged us to take Sarah into foster care. She was doing so poorly at the shelter and they could not stand to see her shaking violently in her cage. She is so meticulously housetained that she would never soil her run even after being confined for 16+ hours at a time. She would rather hold it and burst than to dirty her space. We met Sarah and found her to be very sweet and we could not stand to see her traumatized in the shelter either so we took her in.
Once out of the shelter, Sarah stopped shaking. She had a bath and dinner and went right to sleep. It took her a couple of days to sleep off the shelter trauma and catch up on the sleep she missed because she was too terrified to close her eyes while at the shelter. But once she was rested up, Sarah actually started to engage in play with the much younger foster dog. Sarah is very friendly (will kiss anyone and everyone) so don't expect her to bark when somebody comes to the door. Nope, no barking, she just wags her tail! Sarah gets along well with the other dogs in her foster home. They like Sarah, too, because Sarah doesn't annoy them like some of the younger fosters are prone to do. Sarah gets along beautifully with cats but the cat food must be kept out of her reach or she will scarf it down and leave nothing for the kitties! Sarah rides very nicely in the car, walks well on a leash and is completely trustworthy when left loose in the house alone. She is EXTREMELY grateful to be out of the shelter and in a foster home where she is so well behaved and, of course, housetrained.
We guess Sarah to be 8 years old and she weighs 50 pounds. She went to the vet for bloodwork (bloodwork looked great), shots and heartworm test. She tested negative for heartworm, lyme and ehrlichia. She appears to have already been spayed. Her upper molars were icky so she had her teeth cleaned. One of her molars is chipped but nothing is exposed, the tooth is in solid, no need to remove it. Sarah also had an unsighyly growth, the size of a lima bean, on the inside corner of her eye. That was removed while Sarah was getting her teeth done and she now looks even more beautiful. We had Sarah's chest x-rayed because early on she would breathe very loudly when lying on her side (could have been stress - that has now subsided), and her lungs are clear. So we have had her checked out from head to tail and she is in good shape! She is now microchipped also. With all of that is squared away, we hope somebody will see the value of adopting a more mature dog and open their home to poor little Sarah.