BUTTONS WAS ADOPTED SEPTEMBER 27, 2008!
UPDATE:
Through a bizarre series of events, we were able to determine Buttons' background after she was adopted. We were contacted by a man who saw her on Petfinder and said he was her former neighbor. He explained that his elderly neighbor had passed away on September 11, 2008 and she had Buttons and another Shih Tzu named Me-Sue. He had found homes for both dogs together but the elderly woman's daughter told him it was none of his business, they were "just dogs" and would not let him have Buttons and Me-Sue. Then both dogs simply disappeared. The neighbor asked for our help in locating Me-Sue. We did, in fact, find her with another rescue group. The neighbor went to their adoption day to see Me-Sue and positively identified her. So very long story short, the daughter had without a doubt dumped Buttons in Clark and Me-Sue 10 miles away in Edison, where she was found. She apparently thought that by splitting up the two bonded dogs nobody would be the wiser but her plan was foiled all starting with the fact that Buttons had a microchip and we knew her name, enabling the neighbor to find her with us. It is ALWAYS worth microchipping your pets - you never know what life can throw at you.
BUTTONS' STORY:
September 18, 2008 was Buttons' 8th birthday. We know this because she has a microchip which was never registered but we contacted the provider of the microchip and they were able to tell us when she was born. Puppy mill brokers use microchips for inventory control and part of that information is date of birth. They were also able to tell us who purchased Buttons as a puppy. That person was contacted and she said she "gave Buttons away" in 2003 but all she knew was that it was an elderly couple and had no further information. Fast forward to 2008 and Buttons was picked up by animal control wandering the streets. An owner could not be located. Nobody was looking for her. So September 18 was a very sad, depressing day for Buttons. She had come into her foster home the previous night confused and bewildered. She simply sat under the table and refused to eat. In the afternoon she was taken to the vet for shots and blood work (blood work looked good and she is heartworm negative). She had started to perk up a little by then and was very well behaved for the vet. She also rode beautifully in the car and showed some excitement at going somewhere. Buttons had an ear infection which was treated and a slight bacterial infection on her tummy for which she will be bathed a few times with a special shampoo. It was obvious when Buttons returned to her foster home that she was thrilled to be coming back to a somewhat familiar place and the rest of the day was uphill for her. She started playing with toys and she ate dinner! She had suddenly become much more animated and was showing her spunky personality. So her birthday turned out not to be so bad after all.
Buttons weighs 17 pounds and is a bit chunky. A diet and exercise program will help her lose a few pounds so going to a home where she will be walked regularly would be very good for her. She walks very nicely on a leash. She is very well house trained and has had no accidents. Buttons gets along well with cats. Although she has no desire to interact with other dogs, she simply minds her own business and doesn't bother with them, likewise, they leave her alone. She likes to snuggle up to watch television and inisists on sleeping in the human's bed at night. One thing that is absolutely required in her new home: Lots of small stuffed squeaky toys! Buttons loves them and can often be found wandering around with a toy in her mouth or using them as pillows when she naps. She will come to her foster mom, drop a toy at her feet and bark, meaning she wants to play a game of fetch! She also likes to play chase with her foster mom. If we didn't know her birth date, we would have never guessed her to be 8 years old. She has lots of spunk and energy. Buttons is a breed that required professional grooming every 6-8 weeks. She has been groomed courtesy of Reigning Cats and Dogs in Westfield NJ, where they report she was very well behaved.
Buttons before being professionally groomed: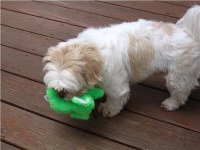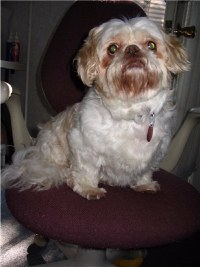 Buttons after being professionally groomed: