JESSIE WAS ADOPTED OCTOBER 19, 2008!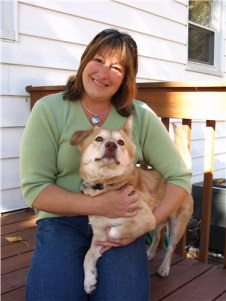 Update: October 27, 2008
It's been a week that Jersey Girl has been with me in her new home, and she has settled in to stay! It was an easy transition - instant dog,
just add a bowl of water! She knows the routine, loves riding in the truck, has been hiking twice, and follows the sunny spot across the
living room. She is on her way to being spoiled! Thanks again for my new best friend.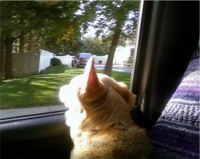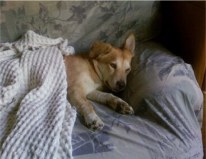 Jessie's Story:
Jessie was surrendered to a shelter when her owners were moving. We could give you an earful about our opinion on that, but we will spare you. Suffice it to say, we hope to do better for Jessie in her next home.
Jessie is an adorable, friendly dog. The first thing people say when they see her is "AWWWW! THOSE EARS!" The "one ear up, one ear down" is quite endearing. It's just how her genetics played out. Nobody is a stranger to Jessie. She eagerly wants to approach everyone to say hello. She has been very well behaved in her foster home and she is happy to be there. When we met her days before we were able to bring her into foster care, she planted her feet and did not want to go back into her kennel run at the shelter. That was most certainly not her favorite place to be.
Jessie is 1 year old and comes in at a compact size, fully grown, at 30 pounds. She gets along very well with other dogs. When introduced to cats, one cat was rubbing all over her and Jessie could have cared less. But as is the case with most dogs, she will chase a cat that runs. But most importantly in her mind is eating cat food so homes with cats will need to be prepared to keep the cat food out of her reach.
Jessie has been spayed, microchipped and had an umbilical hernia fixed. She has been dewormed, treated with flea and tick preventative, has received her rabies and distemper shots and tested negative for heartworm.