BOSLEY WAS ADOPTED NOVEMBER 28, 2008!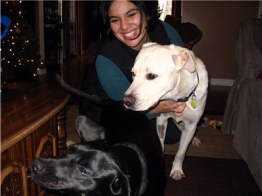 UPDATE November 29, 2008
Bosley is adjusting very well! It's only day two and we've had no accidents. All they did yesterday was play and nap (and squeezed in some dinner, too haha). I was nervous about his first night here but he laid in his bed as if it was his all along. He's still getting used to the new noises in the house but Sparkle seems to give him a lot more confidence and he follows her lead. Sparkle and Bosley accepted each other from the beginning (as long as they don't have any rawhide in the mix haha) - they've napped on top of each other and are constantly together. We want to thank you for bringing such a beautiful dog into our lives - I've attached a few pictures of Bosley in his new home (and outfit!).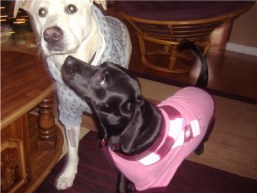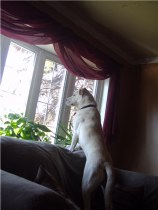 Bosley's Story:
Bosley is about 1 1/2 years old and weighs 58 pounds. He had been found as a stray and sat in the shelter for a month. He is now in a foster home. He is a very sweet, mellow and well behaved dog with a sensitive nature. He is initially tentative about new things but it just takes him a minute or two to realize there will be no harm and he overcomes his hesitancies. Being around other dogs brings out his self-confidence so we would like to see him go to a home with another dog as a buddy. In his foster home, the three resident female dogs feel the need to tune up all newcomers to show them their house rules. Bosley was fine with that. Let the girls be the bosses, he certainly has no interest in being in charge.
Bosley rides very nicely in the car. Just sits and looks out the window. He behaved beautifully for his bath and ear cleaning. He is crate trained and housetrained.
Bosley was also very well behaved for the vet, has received his rabies and distemper shots, heartworm test and microchip. He is scheduled to be neutered and have his rear dewclaws removed.