STEWIE WAS READOPTED DECEMBER 13, 2008!
Stewie's Story:
UPDATE: Stewie is now in our foster home! He went to the vet for his shots (weighs 14 pounds) then straight to the groomer. He obviously had never been groomed before in his life. He was caked with some sort powder so it looks like his previous owner tried to deodorize him instead of having him groomed. He was totally filthy and disgusting (see pictures below). We were worried Stewie might not be good for the groomer since this was his first time, but our wonderful groomer at Reigning Cats and Dogs Salon in Westfield, NJ, raved about what a doll Stewie was while she stripped away his matted hair! She couldn't give him enough hugs and kisses when we picked him up. Indeed, Stewie is a very sweet little guy. And incredibly bouncy and playful with tons of energy. We called the pet store he was purchased from to see if they could look up his date of birth from his microchip and it turns out he has a birthday coming up. He was born on December 26, 2007. Stewie is off to be neutered tomorrow (12/9) and we will begin reviewing applications. Sorry, but no homes with kitties. Stewie wants to pounce on cats and any movement they make engages him, so he is typical terrier when it comes to that. Other dogs, however, he LOVES them!
OUR ORIGINAL POSTING ABOUT STEWIE:
We don't have Stewie in foster care yet. He needs to stay at the shelter over the weekend because we had to juggle a ton of appointments for him. Since we are able to get him neutered on Tuesday, December 9 and because he is in horribly matted condition, he needs to go to the groomer first. We simply can't bring dogs into a foster home from the shelter when they can't be bathed and bathing a severely matted dog will make the matting worse. This means he needs to get shots before he can go to the groomer. So he goes to our vet on Monday for shots, straight to the groomer, then in for neuter on Tuesday. We miraculously arranged all of this just today (Friday, December 5) and are so grateful that the vet, groomer and spay/neuter clinic squeezed Stewie in so quickly so he can get out of the shelter ASAP. Once we have him we will get his picture up and tell you more about him. But we wanted to throw it out there that Stewie will soon be available.
This is what we know so far. Stewie was purchased at a pet store by the children as a gift for their mother. The mother no longer wants Stewie. (PLEASE! Never give animals as gifts! It is a personal decision that should never be forced on someone.) So she brought Stewie to the shelter. She said he is 5 months old, but he is more like 10 months old. He is a small westie, around 15 pounds, we will have an exact weight later. The shelter says he is very sweet and adorable but is so matted that all of his hair is going to need to be stripped. Obviously, he was never groomed before. This is a high maintenance breed that will require regular professional grooming so please be sure you are prepared to incur that expense before taking on such a breed.
Stewie before grooming: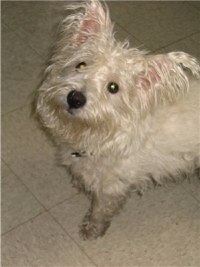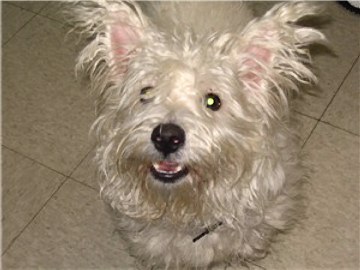 Stewie after grooming: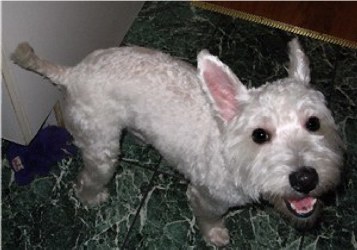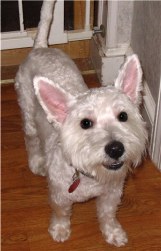 Stewie and his foster buddy,
Rupert
: