AMELIA AND JOJO WERE ADOPTED TOGETHER ON MAY 21, 2009!
(Amelia and JoJo had been in foster care for 1 1/2 years before finally finding their furever home!)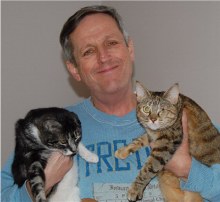 JoJo (3 years old) and Amelia (2 years old) came from a hoarding situation where 112 animals were confiscated, 64 of them cats. We took in JoJo and Amelia because they weren't quite perfect and were being overlooked. JoJo has a cauliflower ear, the result of an aural hematoma (an accumulation of blood in the ear flap) which was never treated and had reabsorbed. There is nothing to be down about it at this point, he will just always have a droopy ear. Amelia lost an eye . An ophthalmologist has checked her good eye and it is perfectly healthy.
Both of these cats are extremely affectionate. We think that Amelia's purr motor is stuck in the "on" position because she always purrs. We don't know if JoJo purrs or not because Amelia's purring drowns him out. Where Amelia will make a game out of everything and is quite the player, JoJo behaves more maturely and thinks a person sitting down is a lap to snuggle in. No invitation is necessary – just sit down and JoJo is in your lap! Amelia is fearless around dogs. JoJo likes dogs but will make himself scarce if the dogs annoy him.