EMMA WAS ADOPTED JANUARY 3, 2009!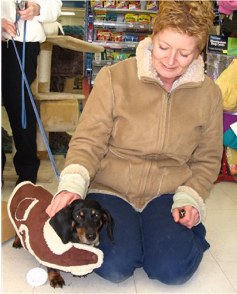 The shelter called and asked if we could take Emma into foster care because she was so scared she would not stop shaking. That all changed once she came into our foster home. She was soooo happy, could not stop wagging her tail. She immediately claimed a favorite dog bed and made herself quite at home with the dog toys.
The woman who had brought Emma to the shelter said she saw somebody throw Emma out of their car window. Emma lived in her front yard for 5 days and when it started snowing, the woman thought she should bring Emma to the shelter.
We think Emma is about 6 years old. She very friendly and is full of spunk and playfulness. She does need to lose some weight as she is quite the porker at 20 pounds. Emma gets along very well with other dogs of all sizes. Emma is crate trained and house trained.