HERBIE WAS ADOPTED JANUARY 25, 2009!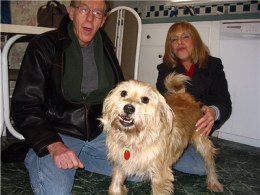 Herbie was found as a stray and sat in the shelter unclaimed for two weeks. He is now in one of our foster homes where he is very happy to be!
Herbie appears to be about 4 years old and weighs 30 pounds. He was a little confused and aloof when we first took him out of the shelter but once he saw that he was going to a foster home, his personality started to emerge. He was very good for his bath and even liked having his terribly filthy ears cleaned. He also did not mind the blow dryer at all. Feeling much better after his makeover, Herbie started playing with toys and begging for belly rubs. He follows his foster mom everywhere. He gets along beautifully with other dogs. The shelter told us that Herbie never soiled his cage while he was there and he has had no accidents at his foster home so we are considering him house trained!
When Herbie went to our vet to be neutered, we asked the vet to look at his right lower canine tooth, which is discolored and sticks out of the side of his mouth. She said the tooth is dead, but is in solid so it should not be removed or it will break his jaw AGAIN. Yes, again! Seems that in the past Herbie experienced some sort of trauma to his face which broke his jaw. It apparently was never treated and healed out of proper alignment causing him to have an under bite and resulted in damage to that tooth. There is nothing to be done about it. It is just the way it healed, is no longer painful for him and he does fine with it like that. He eats, drinks and plays with toys like any other dog. He just looks like he is always smiling!