HIGGINS WAS ADOPTED MARCH 1, 2009!
UPDATE: March 8, 2009
Higgins is doing great. We spent the day up at my grandmother's. It is warm. I let him off the leash for a little bit in the backyard and he was fine. He has gotten into a little puppy mischief, but nothing too bad. I took some picures and will send them to you when I get a chance, so busy with him around that the days fly by. He is starting to sit in another room and not follow us around as much. He did not like the snow that fell Sunday night but by the end of the week he was playing in it (it is starting to melt away though). He met my 5yr old nephew and the neighbor's dog today.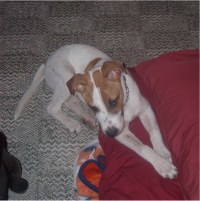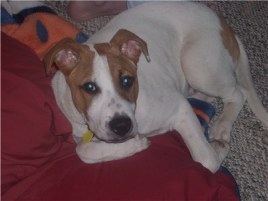 HIGGINS' STORY:
We have no way of knowing exactly what breeds Higgins is a mix of but he has something large in him and we strongly suspect some St. Bernard because of his size and a few physical attributes. He could very well have pointer in him as he is developing ticking in the white part of his fur. Also, just 3 days before Higgins was found, a lactating female pointer with eerily similar markings in black and white was found as a stray in the same general area as Higgins. At 10 - 11 weeks of age, Higgins is a HUGE baby and already weighs 21 pounds! Good thing he is a big boy because if he weren't, well, he'd be dead right now. You see, Higgins was running the streets, wandered into traffic and was hit by a car.
Animal control was called and they took Higgins, screaming in pain, straight to a vet. Because a municipal shelter will only pay for immediate emergency care, not required surgery, animal control called Companion Critters to see if we could take this on. We immediately scheduled an appointment with a surgeon for that same day. Higgins was diagnosed with a compound right femur fracture. This was repaired with an implant, plate, pins and screws. Higgins also suffered superficial abrasions of the feet, rib fractures and pulmonary contusions. He experienced a rough recovery post-operatively due to progression of his lung injuries and it was doubtful he would survive early on. But survive he did. He spent 3 days in the hospital, improved dramatically every day and is now resting comfortably in his foster home. His prognosis is very good and he is expected to return to full function. Higgins won't be available for adoption until he is healed and has been neutered, probably around the end of February.
Thursday, January 8, 2009
Higgins before surgery:
Sunday, January 11, 2009
Higgins after coming home from the hospital: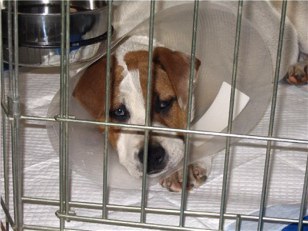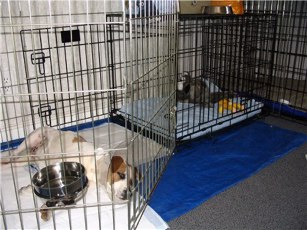 Monday, January 12, 2009
Higgins' plastic e-collar was removed and substituted with a soft e-collar. (That would be the camouflage thing around his head.) He kept bashing into the wound on his back paw with the edge of the plastic collar so the soft one won't damage his paw further and it is much more comfortable for him, yet keeps him from licking his surgical incision.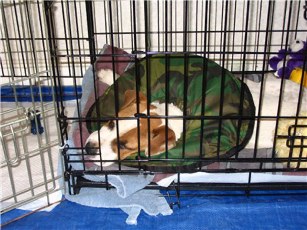 Higgins' Setup
Higgins has very restricted activity over the next 5-6 weeks. We want to take advantage of this and institute house training and crate training at the same time. Our solution to that is what we have named "puppy prison". This consists of a crate and an exercise pen placed on top of a tarp. The x-pen is attached to the crate with plastic zip ties. The door to the crate is tied open. The crate part has soft bedding and the x-pen part has wee wee pads, creating two distinct areas - one for sleeping and the other for "when duty calls and one cannot get outside fast enough".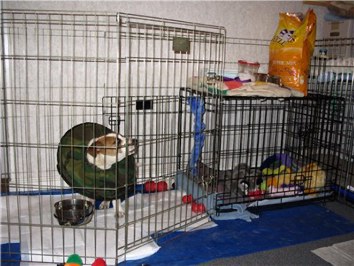 As you can see by the previous pictures, Higgins hadn't quite figured this out on his first day and was sleeping on the wee wee pads. He did, however, quickly determine that the crate was more comfortable to sleep in, so now he only sleeps in the crate and has never soiled his crate. Higgins has done remarkably well with catching on to the house training concept. He is taken outside on leash every 2-3 hours during the day. He promptly relieves himself on the deck (steps are icy and don't want to risk falling while carrying him so we will work on relieving in the yard once the weather clears up and Higgins is allowed more movement - but for now the point is for him to do it outside), he gets a puppy treat as a reward, and demands to go right back inside! He does not like being out in the cold. During his first 5 days in foster care, he has only used the wee wee pads 3 times. Figure that is 3 times on the wee wee pads versus about 30 times going outdoors. Not bad for a puppy his age and a great start on his way to being house trained!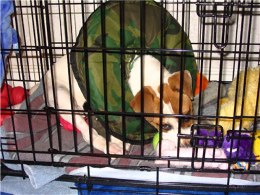 Higgins entertains himself by playing with his many, many toys.
Thursday, January 15, 2009
Higgins has been completely off of pain meds all day and it is obvious he no longer needs them! Where he used to stand to pee, he can now squat. He still takes long naps but when he is awake he wants ATTENTION! He is starting to feel like he can do more than he is allowed to do so it will now become quite challenging to keep him stimulated without allowing him to move around much.
Saturday, January 17, 2009
Higgins attended his first adoption day and was a huge hit! He earned $70 towards his surgery in his donation jar and had lots of attention lavished through the crate bars. People also bought him new toys which is wonderful because toy rotation is important - he quickly gets bored with the same old toys in his crate. Higgins also earned himself a new, thick, plush microfiber bed for his crate. Because he has never had an accident in his sleeping area, his bedding was upgraded and he loves it! He sinks into his new, warm, soft bed and looks oh so comfortable. It came in handy for his much needed nap after adoption day.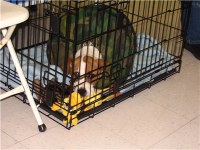 Higgins at his first adoption day.
Thursday, January 22, 2009
Higgins went to see the surgeon for his two week post-surgery recheck. She was very pleased with his progress. The incision healed beautifully and Higgins no longer has to wear an e-collar. He now needs to walk 5 - 10 minutes, 2-3 times per day, working up to 20 minutes of walking at a time after a couple of weeks. He still needs to be kept quiet - absolutely no running, jumping or playing, which is KILLING him! He so wants to cut loose with the other dogs. But until he is completely healed, that is the way it has to be to ensure that he heals properly and has no setbacks. We were given permission to give Higgins a good scrubbing so in the tub he went as soon as he got home. He is spotless now and the white of his coat is brilliant. Higgins will be x-rayed in 3 weeks and hopefully he will be deemed fully healed at that time.
Saturday, January 24, 2009
Higgins attended his second adoption day and earned $100 towards his surgery! He also got a new toy. Because his crate was in front of the toy display, he managed to pull a toy sheep partially through the crate bars and because he seemed to want that toy so badly, a kind lady bought it for him. It has become one of his favorite toys.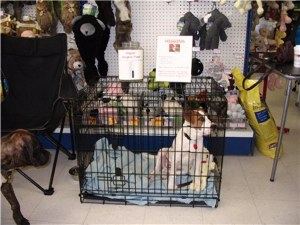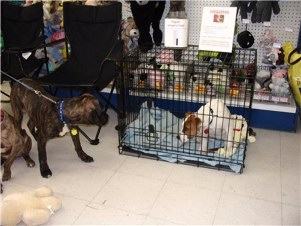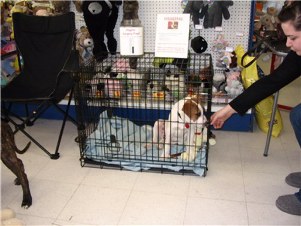 Monday, January 26, 2009
Higgins having a few minutes of out-of-crate time. (Which is OK as long as he does not try to run or jump.)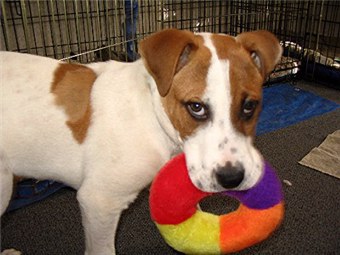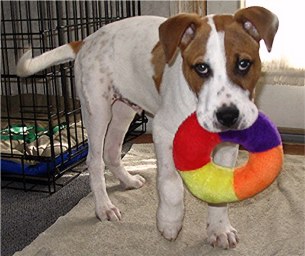 Wednesday, January 28, 2009
Higgins went to our regular vet for his second distemper shot. He gained 3 pounds in one week.
Wednesday, February 4, 2009
Higgins continues to do very well. He is learning to walk nicely on a leash because he HAS to walk nicely to work his leg. When Higgins first started his walks, he would pancake down on the sidewalk and freeze every time a car went by. That seemed to bring back old memories... He is starting to learn that he is safe from cars while on leash and doesn't need to get so worried. He is to the point now where he slows his pace somewhat as a car approaches but he no longer drops to the ground. Higgins is well on his way to being house trained. He has not used the wee wee pads in his cage for days (and had only used them a handful of times previously). He shreds the wee wee pads now. He potties promptly when taken outside and holds it all night long. Because he is now allowed to slowly walk the three steps off the deck and the steps are no longer icy, he happily potties in the yard. He no longer requires treats for doing his business - he has that part down pat. He has had no accidents in the room when he is allowed some out-of-crate time.
"I knows I is a naughty boy. I eats the box. See..."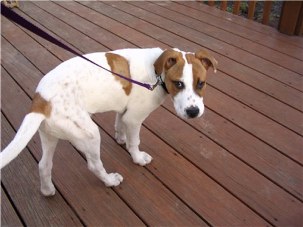 "I needs a moment of privacy, please. I gots to go potty."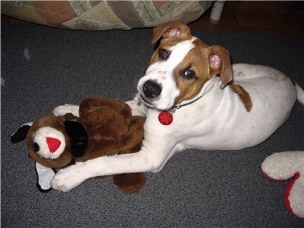 "I wuvs my squeaky toys a whole lots."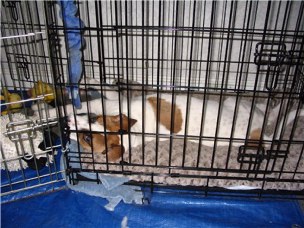 "ZZZZZZZZZZZZZZZ...... Yes, I snores sometimes."
Monday, February 16, 2009