OPIE WAS ADOPTED FEBRUARY 20, 2009!
UPDATE: February 25, 2009
Opie likes to sit/lay right next to me on the couch; usually on the pillow. Rusty, the cat, was on my lap this morning while I was drinking my coffee. He gave Opie kisses on the head!
Opie is doing well. He wakes up when Larry gets up at 4:00am, so he's been letting him out to pee, while Schatzie is comatose and hears nothing. Opie killed his moo-cow already. He chewed through the material to the battery compartment. There was a piece of plastic that was loose and was a choking accident waiting to happen. He found a rubber squeaky ball that he likes to play with. He likes to run from the family room into the kitchen, and usually slides into the cabinets to stop. But he brings the ball back! He actually played ball by himself and ran around nutsy-koo-koo while I was making dinner. Andy was doing homework at the table. We both cracked up laughing.
UPDATE: March 9, 2009
Opie has decided that he likes sleeping at night in a velcro cat house that's in my bedroom, but uses one of Schatzie's beds or afghan during the day. We cracked up the first time we saw him in the house. First time we've had a dog small enough to fit inside so we took a few pictures.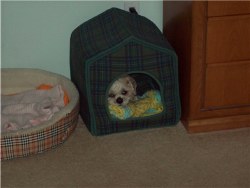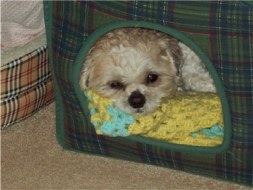 OPIE'S STORY:
Opie already looks absolutely adorable after our unprofessional attempt at grooming him. He will look even better after our groomer fixes what we started. Let us explain.
Animal control picked Opie up as he was running the streets. The animal control officer was able to find out who Opie belonged to and attempted to return him to his owners. The owners flat out stated "We don't want him. Take him." So Opie went to the shelter.<p>
The shelter staff asked if we would take a look at Opie, that he was in horrid shape, filthy, stinky and full of rock-hard matted hair. When we saw Opie, he simply stood in his cage shaking violently. In his condition, he was not fit to go into a foster home. We made back-to-back appointments for him to go to the vet for his shots, then straight to the groomer. But we couldn't get those appointments for another week. What to do? Opie was still shaking in sheer terror at the shelter. We simply had to take matters into our own hands.
When we went to the shelter to get Opie, he cowered from us in the far corner of his cage, still shaking violently. Once we got a leash on him (finding his head and neck to get the leash on him was the problem - with all of the hair and mats it was hard to tell where his body parts were) he came with us willingly and was happy to be picked up and put in a cage in the car. Once at his foster home, he stopped shaking and started dancing around the yard in joy. He knew things were looking up and he was scared no more.
We set up our makeshift "grooming salon" on the washing machine in the basement and proceeded to hack away at filthy mats with the electric clippers. Opie did not mind at all. He was incredibly cooperative and well behaved. After almost two hours of carefully trimming away mats, there was about half of Opie left and into the tub he went. He got a good scrubbing and turned out to be a completely different color than we first thought he was. It was evident that Opie felt WONDERFUL after being cleaned up. He zoomed around, running like he had not been able to for a long time with his legs matted together. And he could see! The weave of matted hair over his eyes had caused him to keep running into our legs. He no longer runs into our legs.
Opie is an absolute sweetheart. For what we put him through in just a few hours after meeting him, we couldn't have expected him to handle it as well as he did. He met the much larger dogs in his foster home and liked them instantly. He follows his foster mom everywhere. He simply wants to be with somebody. Where Opie had not eaten one bite of food during the three days he was in the shelter, he eagerly chowed down his dinner on his first night with us.
Opie is about 1 - 1 1/2 years old and weighs 14 pounds. Opie will be ready for adoption as soon as he gets his shots, gets a proper hair cut, and gets neutered. We are hoping to have all of that accomplished by the weekend of February 21. Please only apply to adopt Opie if you are prepared to incur the expense of having him professionally groomed every 6-8 weeks. He should NEVER get back into the condition we found him in. To allow that is animal cruelty.