SYLVIE WAS ADOPTED APRIL 4, 2009!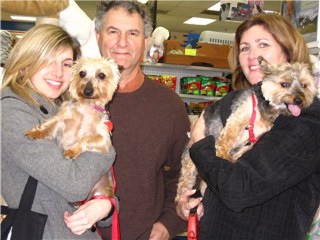 (Sylvie on the left and her new brother, Rudy, on the right.)
SYLVIE'S STORY:
Sylvie is a purebred silky terrier but we have also posted her as a Yorkshire terrier since these breeds are extremely similar and it is pretty hard to tell one from the other. Since the two are fairly interchangeable, listing her as a yorkie in addition will give her more adoption options.
Sylvie will turn 7 years old on April 22. She weighs 12.7 pounds. Sylvie had lived with an elderly lady, two other small dogs and a cat. (The foster home's opinion on cat interactions: Definitely not cat aggressive but will partake in cat chasing at the drop of a hat - the dog friendly cats are NOT happy with her so a home with cats is not recommended.) The elderly lady, being in very poor health, was no longer able to care for her dogs. Sylvie is now in a foster home with us and her friends are in foster homes with other rescues.
Sylvie's coat is in poor shape. Her owner kept a harness on her at all times so she could lift her up by the harness. This caused damage to her coat. She has been to our groomer at Reigning Cats and Dogs Salon in Westfield, NJ to have her scraggly coat trimmed up. We went with a short cut so that her hair can all grow back out nicely at the same time. If you are considering adopting a silky terrier, please be prepared to incur grooming costs as this is a high maintenance breed that will require regular professional grooming.
Sylvie is an absolute doll. She is the sweetest thing, very well behaved, and loves to sit on laps and snuggle up. She loves toys and encourages games of fetch. She spent her first night quietly in a crate and went back into that crate on her own to nap the following day even though there were many other sleeping options at her disposal.
Sylvie is shy around men initially, probably since she lived with a woman and is not used to men. But it took her all of 3 minutes to become best buds with the adult son in her foster home. She now greets him with a toy in her mouth while doing a happy dance. A home with young children would not be appropriate for Sylvie since she has no experience with children and at this point in her life, it should not be expected of her.
Sylvie was checked by our vet and she appears to be in very good health. She has great muscle tone in her back legs and no hip or knee problems that are common in small breed dogs. She is spayed, microchipped, has had rabies, distemper and bordatella shots and is heartworm negative. Sylvie's blood work shows everything to be within normal range.
Because Sylvie is used to having someone home all day, she does need to go outside frequently throughout the day or she will have accidents. She simply is not used to having to hold it all day or being home alone for extended periods of time.