LADY AND BAM BAM WERE ADOPTED TOGETHER ON APRIL 25, 2009!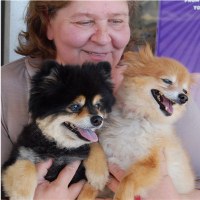 LADY AND BAM BAM'S STORY: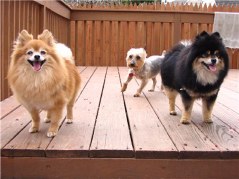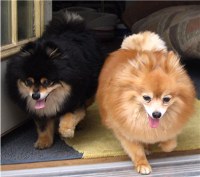 Bam Bam was purchased as a puppy as a gift for somebody who did not want him so Barbara took him in. Five years later Barbara witnessed Lady being thrown out of a car and abandoned. Lady was in very bad shape, had hardly any hair, and had recently weaned puppies. Barbara took her straight to the vet, nursed her back to health and had her spayed. Bam Bam and Lady lived the good life. Their teeth are in great shape as Barbara always brushed them. They went to the veterinarian and the groomer regularly. They were pampered little dogs. Then Barbara developed emphysema and was hospitalized on a respirator. The neighbor was caring for the dogs but it was evident Barbara would never be able to care for her babies again so that is how they came to be with us in foster care waiting to be adopted.
Lady and Bam Bam have a lot to say when they meet a new dog but give them a few minutes to get to get used to the other dog and they get over themselves. With cats, however, they are awesome right off the bat. They are not at all "in your face" with cats and if they approach a cat and that cat gives them "the look", they turn around and go about their merry ways. They are so good with cats that they are allowed to accompany their foster mom into cat territory while she cleans, feeds and vacuums. And, amazingly, the vacuum cleaner does not bother them at all.
In their foster home, Lady and Bam Bam have the opportunity to go outside frequently since their foster mom works from home. They have had no accidents in their foster home but it is unknown for how long they can hold it.
Bam Bam is the black and tan Pomeranian. He was born on December 15, 1998 so he is currently 10 years old. He weighs 9.5 pounds. Lady is the red Pomeranian. She is guessed to be around 8 years old and she weighs 8.1 pounds. We have full medical records for both dogs from the day Barbara took them in. Lady is a lap dog - she will jump right into an empty lap. Bam Bam isn't a lap dog like Lady is but they are both very sweet, energetic little dogs. Bam Bam does the cutest happy dance for meals and treats.
By adopting one or both of these dogs, you will not only be giving them another chance at a good life but will make a very ill lady tremendously happy.
UPDATE: Bam Bam runs, does full flights of stairs (up and down) and dances. We would have never guessed but it turns out Bam Bam has a problem with his back which is being managed effectively with medication.
Read about it on our blog
.