JACK WAS ADOPTED JULY 9, 2009!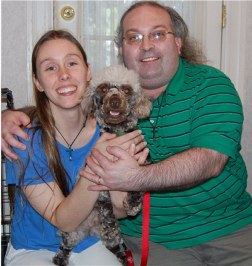 UPDATE July 17, 2009:
We've had a very busy week! Good busy! We had promised pictures, and now we're getting them out to you...
Jack has been such a great dog in everything we have done with him. He's learned how to "sit" and he's learning to "lay down" with treat as the incentive. He's also getting much better at not picking everything up on our walks.
Tuesday he had his first vet visit, and we MUST pass this message on from the vet: "these records are perfect, so easy to understand what vaccines he has and when they were done, wish all the shelters and adoption organizations could see this and do it the same way!" Everything checked out good, we are just waiting on stool sample results (we expect that to be good too). The vet was able to check him all over, take his temperature, etc, with only one complaint from Jack when he was checking his back teeth. No big deal, and within about 10 seconds Jack's tail was wagging again, so I guess he likes the vet's touch and voice.
Wednesday Jack got to meet my parent's dogs. Jack also got to see the pool, not to go in all the way yet (we didn't have our swimsuits), but he stood on the first step and got to feel the water (and drink it). That was a very busy day, Jack was asbolutely pooped out by nighttime!
Thursday he got to meet the groomers/trainers, he'll be getting a clip next week so he can be cooler in the hot weather. Once we get a routine down, we're going to see what kind of classes they offer to get him involved in some obedience or agility.
Also on Thursday we went to Gram's, met her dog Rhonda. Jack waited there in the air conditioning and we went out to lunch with Gram. There was some barking as soon as we were getting in the car, so Jack and Rhonda stayed in separate rooms just so they could settle down.
Jack has also learned to come up and down our stairs in the house, he seemed okay with the ones on your porch but for some reason was scared of ours. He crept up one or two and then would stand there wimpering, turn around and go back down and wimper till we carried him. He is adventurous now, he comes all the way up and down on his own to get to his people!
We'd better attach the pictures and run along, he's probably waiting to eat by now!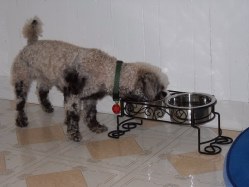 JACK'S STORY:
Jack is 1 1/2 years old and weighs about 14 pounds. He's the sweetest little guy and was one of the favorites at the shelter. Jack is now in a foster home. He wasn't the most handsome poodle, but that was not his fault at all. He will be gorgeous again, though, once his hair grow back in. For now he has been groomed but well, other than his head, he is pretty much naked.
You see, Jack was misdiagnosed as having allergies. His owners dumped him at the shelter because they didn't want to spend any more money on him at the vet. Jack was so itchy that he was self-mutilating. There is usually one thing that causes itching so severe that a dog bloodies himself by pulling hair out - sarcoptic mange. Sure enough, that is what Jack had. He apparently picked it up at the groomer since he never had that problem until after he had been groomed the last time. Fortunately, this is a very easy fix and it does not cost a lot of money. It merely involves putting Revolution on Jack once every two weeks, three times, and the mange mites are a thing of the past. Jack has now finished treatment and he itches no more. His missing hair is growing back in now but strangely, the new hair is is coming in dark chocolate instead of light chocolate.
Jack has been neutered, microchipped, vaccinated and tested heartworm negative.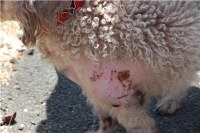 This shows some of the damage Jack did because of itching. (See below where the hair is growing in dark chocolate brown.)
Jack went to the groomer and got a really short cut on his body so his hair can all grow back in together:
But nobody seemed to like the "Jacques" look above, so back to the groomer he went to be coverted back into Jack: