CALVIN WAS ADOPTED SEPTEMBER 7, 2009!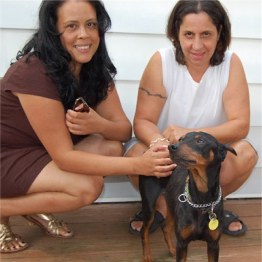 Calvin was picked up as a stray and never claimed while he was at the shelter. He is now in one of our foster homes. Calvin has a docked tail and cropped ears, weighs 21 pounds and is around 3 years old.
Calvin gets along well with other dogs. In true terrier form, he seems to be a little too interested in cats so a feline-free home is probably best for him. Calvin is a very sweet and affectionate boy and will think nothing of flinging your hand around with his nose if he feels you need to pet him some more.
Calvin has been neutered, is up to date on rabies and distemper shots, is heartworm negative and is microchipped. His teeth were a little dirty so we had those cleaned up sparkling white while he was being neutered. Calvin is very well house trained and has had no accidents in his foster home. He has been able to hold it for 8 hours straight when left home alone loose in the house.