BENNY WAS ADOPTED SEPTEMBER 23, 2000 TOGETHER WITH TONY!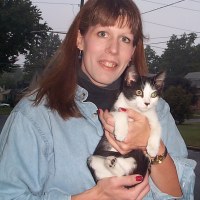 BENNY'S STORY:
Benny is about 4 months old (9/2000). He has spent his entire life in a cage so far. He came in at animal control as part of a litter with no mom. All of his siblings were adopted. He is now in a foster home. Once he gets used to his new surroundings, he will be able to come out of his cage and run around.
Benny is a playful guy. He will make a game out of anything he can find. Pulling the mini blind strings through the crate bars kept him entertained for a whole hour. He is an extremely friendly guy and all you have to do is look at him to get him to start purring. Benny has been rooming with Duffy for over a month now and they have become best friends.