BOGART WAS ADOPTED SEPTEMBER 24, 2000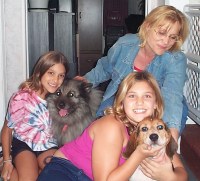 BOGART'S STORY:
The vet feels that Bogart has had a hard life so far. He is only about 3 years old but he is has not had it easy. His teeth are already in bad shape and he is on antibiotics to clear up his gums so he can have a dental cleaning when he gets neutered in a couple of weeks. But his worries are now over. Bogart has proven himself to be a wonderful little dog in his foster home. The first day home alone, he escaped from the baby gated kitchen and was sitting at the front door ready to greet his foster mom with a happy dance when she came home from work. But amazingly, Bogart did not disturb one thing in the house and he had no accidents. Haven proven himself trustworthy, Bogart now has full run of the house at all times.
Bogart adores children. He will cry when he sees them if they don't come over to pet him. He then cries again when they leave him. Bogart also gets along well with cats and other dogs. Once a day he gets the zoomies. He will hop around like a rabbit, tear around the coffee table and do a few laps around the house, then settle down for a nap. Bogart ducks when you go to pet him or if you firmly tell him "no", evidence that he was once hit by someone. But with time he will overcome this fear when he realizes nobody will hit him ever again.